**PLEASE NOTE: We have a truncated special order menu from 11/21-12/1 because we are baking pies 'round the clock. If you need a special order cake, please call and we'll fill you in!
Sweetpea is a 100% vegan bakery! We are NOT a gluten free bakery. For cake options with no gluten added, please see the Allergens section of our website.

We carry a wide variety of baked goods every day of the week, so pop in or give us a call to see what we have in the case!
We always have a limited selection of whole 9″ cakes,pastries, and some no gluten-added goodies available to grab, but if you're looking for something in particular, it's always safer to call ahead to place a special order.
CAKES
WE REQUIRE AT LEAST 48 HOURS ADVANCE NOTICE FOR ALL SPECIAL ORDER CAKES. Please allow more time for detailed decoration. Personalized cake decorating is priced on a case by case basis.
WE DO NOT ACCEPT SPECIAL ORDERS OVER THE INTERNET. Please call the bakery to speak with one of our friendly staff members to place an order.
Sweetpea does not deliver special orders at this time under any circumstances. If you are looking for delivery of Wholesale or Wedding products, please see appropriate page.
Cake Sizing
6″ serves 4-6

9″ serves 12-14
1/4 sheet serves about 20
1/2 sheet serves about 50
Full sheet serves about 100
_______________________________________________________________________________________
Mom's Cake The traditional birthday cake! Vanilla with a homestyle chocolate icing.
Black and White A basic chocolate cake with vanilla buttercream. A real crowd pleaser.
Vanilla Cloud For the purist; vanilla cake with creamy vanilla frosting, decorated with dainty dots.
Toasted Coconut  A Sweetpea customer favorite. Coconut flavored yellow cake with coconut buttercream and toasted coconut bits.
6" $25
9" $38
¼ sheet $55
½ sheet $70
full sheet $90

———————————————————————————————————————–
Chocolate Decadence Our moist chocolate cake frosted in chocolate buttercream and covered in chocolate ganache with a dusting of cocoa powder.
Tuxedo Our moist chocolate cake paired with fluffy vanilla buttercream and chocolate ganache.
Chocolate Raspberry Two layers of chocolate cake with raspberry jam, chocolate buttercream and chocolate ganache.
Chocolate Peanut Butter Peanut butter buttercream is to die for! And it encases our chocolate cake here, topped with ganache and peanuts.
Confetti Cake The quintessential kid's birthday cake. Yellow cake happily studded with confetti sprinkles, topped with vanilla buttercream and even more sprinkles!
Boston Cream Pie The classic torte, filled with vanilla custard and topped with ganache. Available in 6″ and 9″ only.

6" $27
9" $40
¼ sheet $60
½ sheet $75
full sheet $100
—————————————————————————————————————————————–
German Chocolate Chocolate cake filled and topped with coconut pecan filling and encased in chocolate icing.
Black Forest Chocolate cake with tart cherries, vanilla butter cream, topped with maraschino cherries and chocolate ganache drizzle.
Lemon Chiffon Lemon cake, vanilla buttercream and a tangy-sweet lemon curd filling.
Elvis Dense banana cake paired with peanut butter frosting and chocolate ganache.
Cookies and Cream A popular cake for all – crumbled bits of Newman O's sandwich cookies are whipped into our vanilla buttercream to top a chocolate cake
6" $29
9" $42
¼ sheet $63
½ sheet $78
full sheet $110
_____________________________________________________________________________________
SEASONAL
New seasonal flavor coming soon!
________________________________________________________________________________________
Oatmeal Spice A hearty old world spice cake made with quick oats, iced with vanilla buttercream, and topped with our almond coconut filling. (Cannot be nut free)

Carrot Cake A moist spicy cake with walnuts, paired with our creamy vanilla buttercream frosting. (Cannot be nut-free)

6" $29
9" $42
___________________________________________________________________________________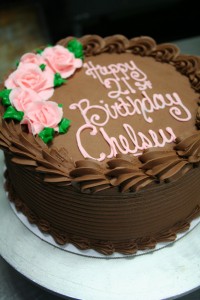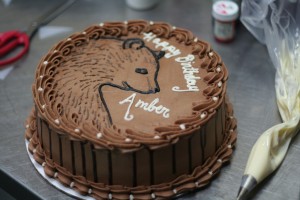 For more photos, please visit our Flickr page!
Cupcakes
Prices
6 cupcakes per flavor, minimum

$2.50 each
$28.00 a dozen
Mix and Match Flavors!
Cake
Vanilla – Chocolate – Coconut – Lemon – Red Velvet – Carrot – Almond – Oatmeal Spice
Frostings
Vanilla – Chocolate – Coconut – Raspberry (bright pink!) – Peanut Butter – German Chocolate (chocolate buttercream with coconut pecan filling) – Tuxedo (vanilla buttercream with chocolate ganache) – Mint – Lemon Chiffon (vanilla buttercream with lemon curd)

Cheesecakes $42 (9 inch)

NY Style
Chocolate
Key Lime
Peanut Butter Chocolate Chip
Brownie Chunk
Marionberry
Raspberry
Turtle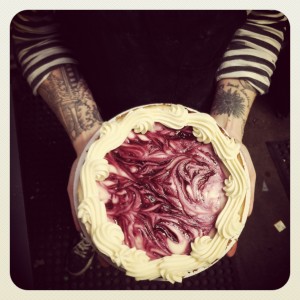 We also serve a selection of savory foods and sandwiches
Breakfast served: Monday thru Saturday 8AM til 11AM and Sunday 9AM til 11AM
Biscuits and gravy, biscuit sandwiches, quiche and potatoes!
Lunch served: Monday thru Saturday 11Am til 6PM and Sunday 11AM til 5PM
Tons of yummy sandwiches with house made faux meat, veggies, spreads, on house made bread.
Call or stop by for a current menu!